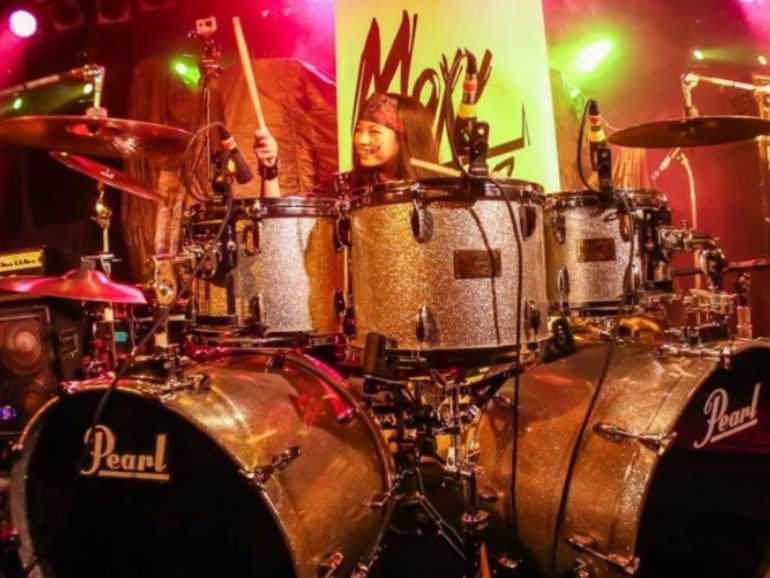 Who are you and what do you do?
Hello! I am Alexey Poblete and I am a rock/metal drummer. I am 13 years old and I have been playing drums for 6 years.
My favorite drummers are - John Bonham, Eric Singer, Neil Peart, Tommy Lee, Tommy Clufetos, Jackie Ramos, and many more!
I love classic rock and metal! I have a youtube channel where I do drum covers and I am in a band called Moxy and The Influence.
My favorite bands are - KISS, Led Zeppelin, Rush, Motley Crue, Black Sabbath, Moxy ROXX, Five Finger Death Punch, Avenged Sevenfold, Obscura, Slayer, and more.
I started playing drums at the age of 6 years and 9 months. It all started when I was 5 years old and watched a kids tv show about music and once I saw the drummer, I absolutely fell in love with drums! I finally convinced my parents to get me drums after more than a year of persuasion. They got me a drum set and a drum teacher. I promised them to join a drum competition if I started playing drums. After 6 months of playing drums at age 7, I joined my first drum competition and won! I also played drums with Patti LaBelle at age 7 and I played with Stevie Wonder at the Nokia Theater also at the age of 7.
I had my drum teacher for a year and a half. When I was 8 years old, I became friends with the drummer of KISS, Eric Singer who is now my mentor. I also received a video message from Neil Peart when I covered YYZ at age 8. I won the Next Great Drummer competition in categories - Beginner, Intermediate, and Hard.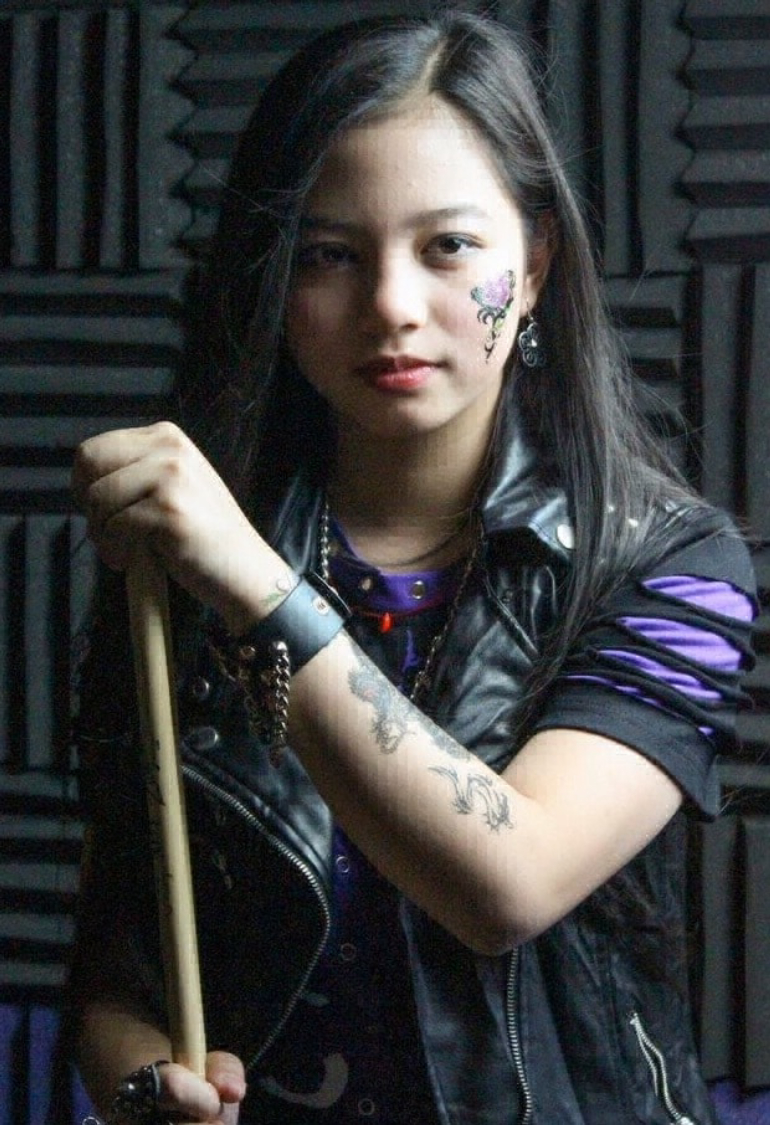 In 2012 I played on Tommy Lee's Rollercoaster drum set during KISS and Motley Crue's soundcheck in Vegas. I was also the 2013 Worldwide Hit Like a Girl Drum Contest Under 18 Champion and was a judge for Hit Like a Girl 2014 and 2015. I was also the champion for the KISS Drum Off on KISS Kruise III, 2013.
I also played with Thomas Pridgen and his band The Memorials in 2014. In 2015 I was featured as a drummer in Ellen Degeneres' and GAPKIDS' girl power campaign and clothing line. I had an interview with Ellen Degeneres, played drums for her, and taught her a beat on drums.
I also jammed with Nick Menza of Megadeth, Veronica Bellino of Jeff Beck, Meytal Cohen, Thomas Lang, Eric Singer, and Derek Roddy, etc. I also had appearances on Fox5TV Las Vegas and on the news in Philippines. I toured in Philippines in September - October 2015. Over there I played with Death By Stereo, Sandwich, Imago, Wolfgang, and Arnel Pineda of Journey.
I have played with many KISS Tribute bands, and local bands in Vegas like Sin City Sinners and Antitrust. I played with the Next Great Drummer All Stars Band at the long beach Jazz festival. I've done many magazine interviews like Rock and Roll, Russian Magazines - Kids of Metal, and Legato Magazine from Philippines. I played at NASCAR in Vegas in 2012 and 2013. I also played at many charity events and at the Andre Agassi Benefit show. I also received a certificate from Senator Henry Reid in Vegas. Recently, I was in Walk The Moon's music video, 'Work this Body'.
What do you use?
Most of the time I use my Pearl Classic Maple Series Silver Sparkle drum set (Previously used and given by Eric Singer who used it in KISS, Alice Cooper, and Queen.) I use this drum set in my drum covers.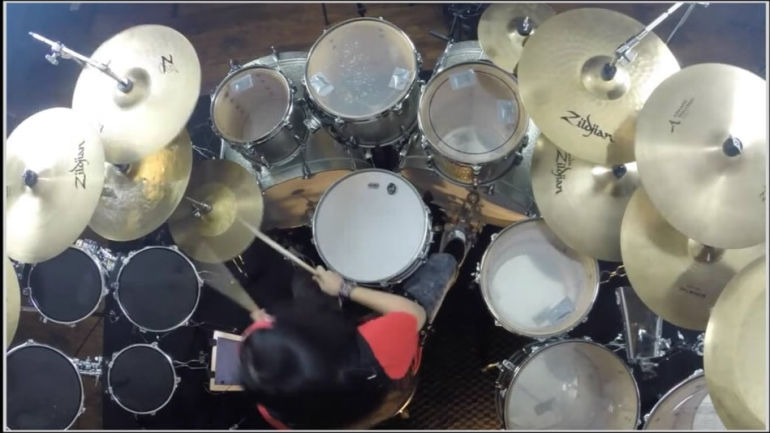 Concert Toms -
Tom #1 - 10 in.
Tom #2 - 8 in.
Tom #3 - 10 in.
Tom #4 - 8 in.
Rack Toms -
Tom #1 - 10 in.
Tom #2 - 13 in.
Tom #3 - 12 in.
Floor Toms -
Tom #1 - 14 in.
Tom #2 - 16 in.
Tom #3 - 18 in.
Bass Drums -
Kick #1 - 22 in.
Kick #2 - 22 in.
Pedal - Pearl Eliminator Demon Drive Double Pedal.
Zildjian Cymbals -
Crash #1 - 12 in.
Crash #2 - 18 in.
Crash #3 - 17 in.
Crash #4 - 17 in.
Crash #5 - 16 in.
Crash #6 - 17 in.
Ride - 20 in.
China - 16 in.
Splash - 8 in.
Hihat - 13 in.
Wuhan Gong - 26 in.
Sticks - Eric Singer Signature Zildjian Drum sticks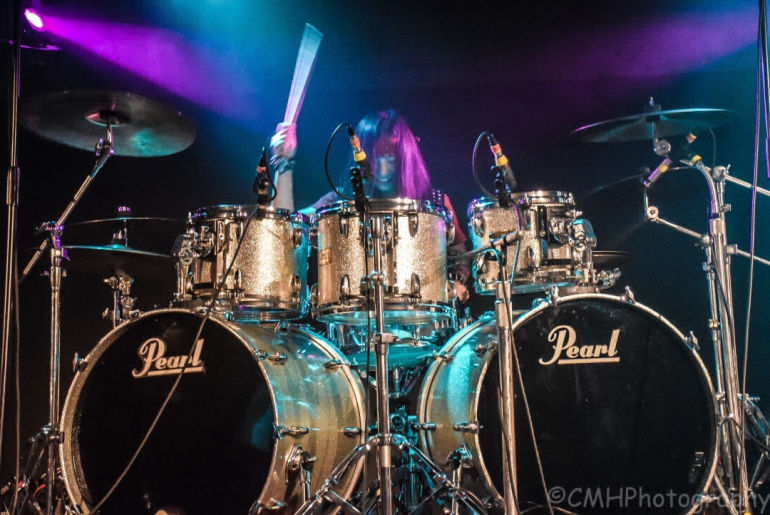 What would be your dream set up?
My dream set up would be similar to Mike Portnoy's Mirage monster but I'd love the color to be purple and black. I also would love to have my own version of Tommy Lee's rollercoaster on my drum set. :)